The Communications Office at the Bangalore Life Science Cluster introduced a brand new outreach initiative where our audience gets a behind-the-scenes look at BLiSC labs! 
We joined the Adaptation Lab between March 29th and April 2nd,  and celebrated their 9th year of research and life at the National Centre for Biological Sciences! The lab is dedicated to questions which integrate ecology and evolutionary biology with molecular evolution to the understand the processes governing adaptation.  As the lab says, "We'd like to think that we are genetic and ecological tinkerers, and we want to track evolution as it happens."
The lab website is the best source of information about their science, the different areas of research they tackle within adaptation, and their updates: https://adaptationlab.in/
Here's a glimpse of the week's engagement with the Adaptation Lab, to get the whole experience, we suggest visiting 
 and the  ! 
The lab has grown significantly since 2012, both in their scientific experience, and members! Pratibha Sanjenbam, a post-doc in the lab, put together this lovely introduction: https://twitter.com/BLiSC_India/status/1376488466490433538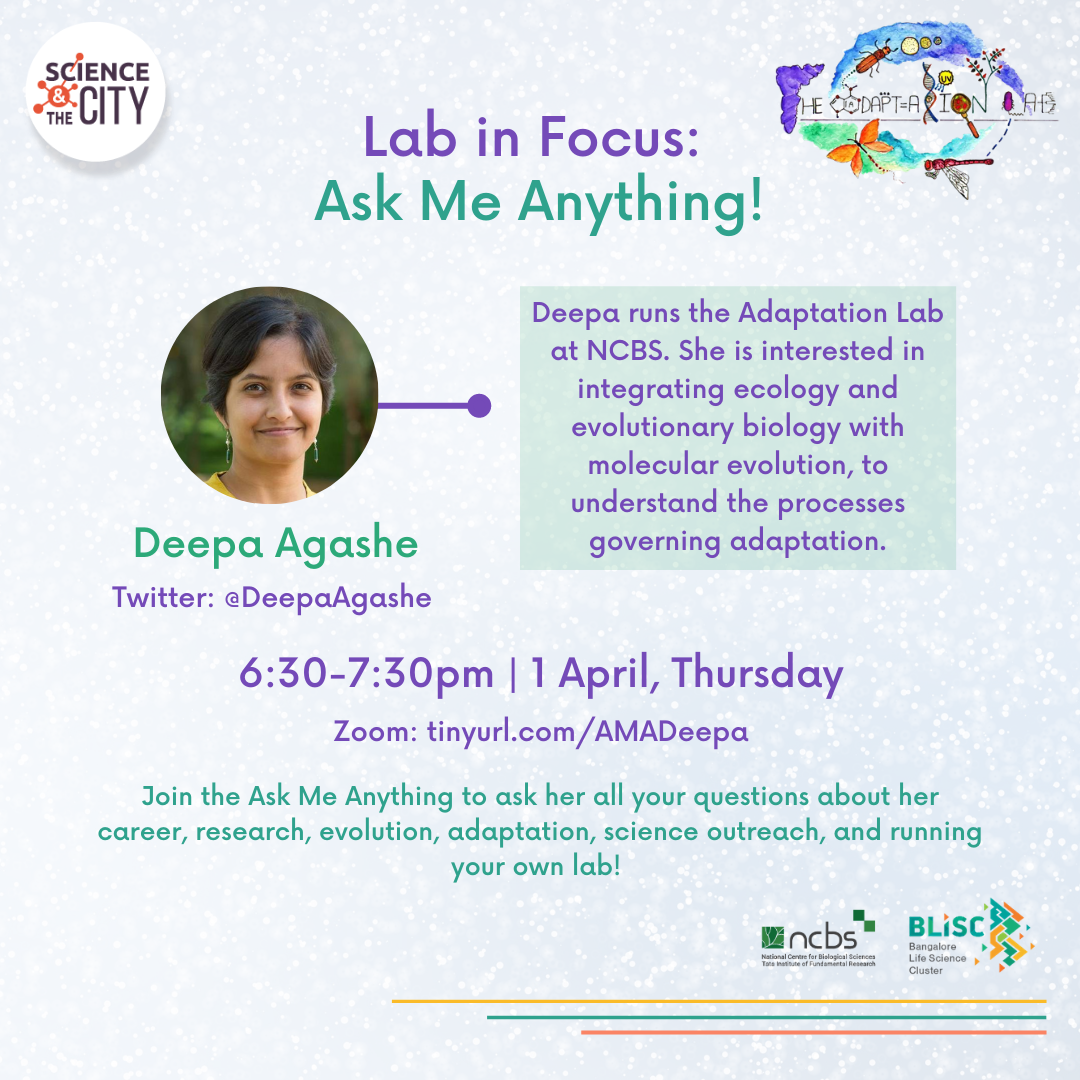 Here's the Ask Me Anything session we had with Dr Deepa Agashe, who leads the lab: https://youtu.be/1VMN4FHz4ZQ 
As with all labs on our campus, young scientists have been embedded deeply in the lab, before they move on to pursue their research interests elsewhere, in a graduate programme, a post-doctoral fellowship, or to set up their own labs. In this week with the lab, we show you a peek of life for current members, as well as share the stories of alumni! Meet everyone on this page on the lab website. 
The lab has several exciting papers under three main projects, on the Evolution of bacterial genomes, Insect adaptation to novel environments, and the Evolution of insect-bacterial associations, the Twitter thread shares the history of the some of these, and more can be found on the website. Head there to learn more! 
Check out how they maintain their beetles for experiments: https://youtu.be/XI1oW_sUicE
We were happy to celebrate the past nine years with the lab, and wish all the members who have been a part of the journey many more exciting and productive years in their careers! We are also grateful to everyone who participated whole-heartedly in this week of Lab in Focus! 
Lab in Focus allows a wide audience to meet the scientists behind the science: learn what a day in their life is like, what they're working on, and how they unwind. A fun and uniquely curated experience exclusively from BLiSC! Check out the week we virtually visited the Biodiversity Lab here: https://news.ncbs.res.in/spotlight/lab-focus-biodiversity-lab
Comms team who supported this initiative: Chandrakant Redican, Mahinn Ali Khan, Moumita Mazumdar, Pavithra Ashok Kumar,  and Raghul M R.