We take immense pride in announcing that Prof. Mukund Thattai has been awarded the Infosys Prize 2023 in Physical Sciences, in recognition of his groundbreaking contributions to evolutionary cell biology. This recognition stems from his research, which has significantly advanced our understanding of one of biology's central mysteries: the emergence of complex cells.
Thattai works at the interface of cell biology and evolution, using powerful tools from physics and computer science. His exceptional contributions include his work on the evolution of typical sub-compartment in complex cells, like mitochondria and the trafficking system, as well as change and functionality of the Golgi apparatus.
On receiving the award, Thattai said, "I want to thank the Infosys Science Foundation for this honour. I am particularly thrilled to have been recognized by the Physical Sciences jury. I have always felt that the study of living systems is part of both biology and physics. I think this sends a message to young people that there are no boundaries between disciplines. I cannot imagine a better place than NCBS for a physicist interested in biology. The fantastic colleagues, the diversity of areas, and the spirit of collaborative research at NCBS have pushed my science forward."
Link for prize announcement: 
https://www.infosysprize.org/laureates/2023/mukund-thattai.html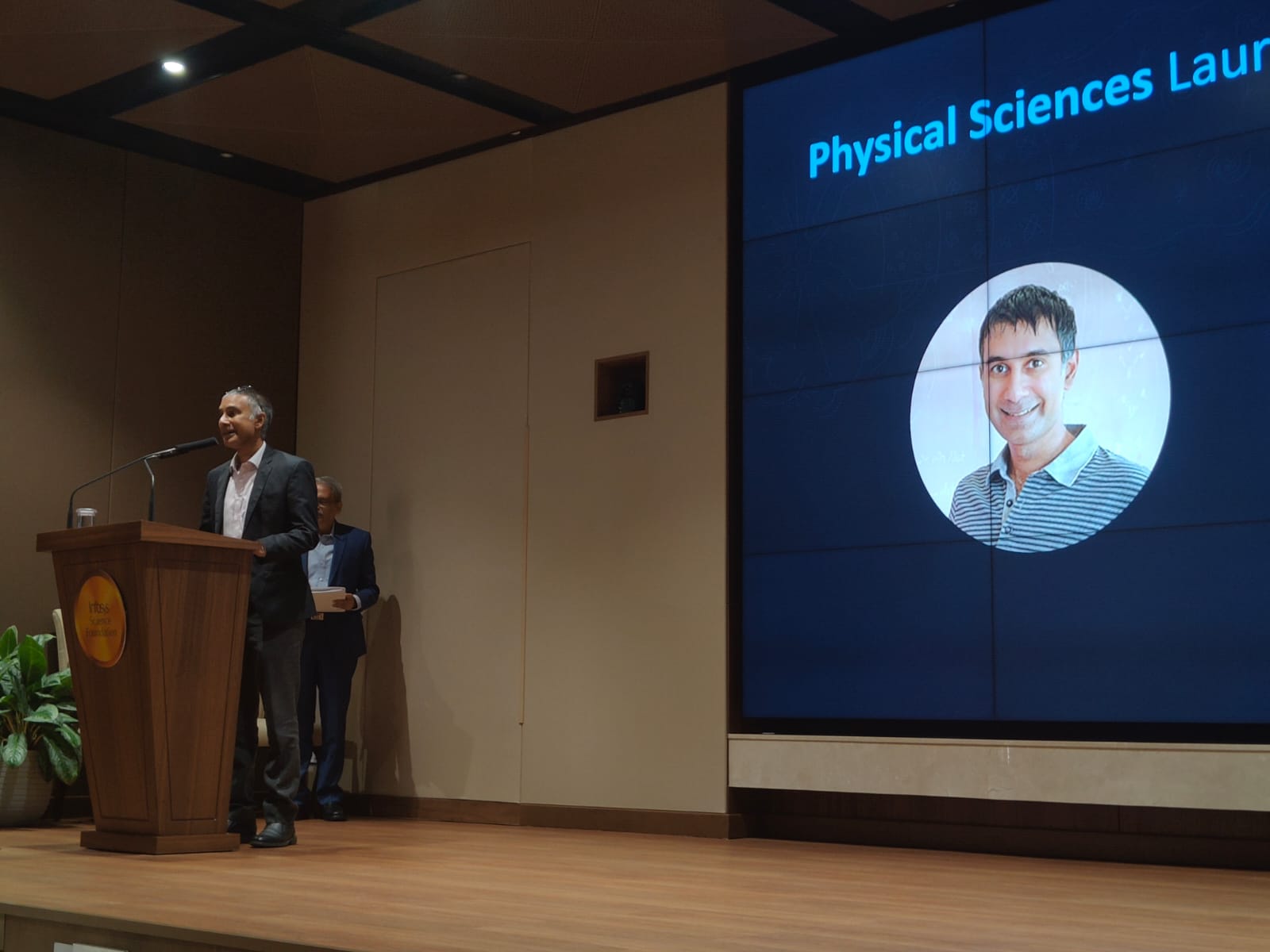 Mukund Thattai at the Infosys Science Foundation during the award ceremony| 15 November 2023
Extending his congratulations to Thattai, Prof. L.S. Shashidhara, Centre Director, NCBS, expressed, "NCBS-TIFR is proud to have one more faculty, 6th since its inception, being recognised by this prestigious award. Each award is special and recognises awardee's immense contribution to the field. Prof Mukund Thattai, a mathematical physicist, has contributed to our understanding of the evolution of complexity in eukaryotic cells and has helped in nucleating Evolutionary Cell Biology, a new field in biological sciences. This is the second time a Infosys prize in physical sciences is being awarded to scientists working in an area of biological sciences. Both from NCBS-TIFR. It reflects the quality of interdisciplinary biology at our centre."
The Infosys Prize, conferred by the Infosys Science Foundation, acknowledges the remarkable contributions of researchers and scientists across six categories: Engineering and Computer Science, Humanities, Life Sciences, Mathematical Sciences, Physical Sciences, and Social Sciences. Five distinguished scientists from NCBS have previously received this prestigious award. Click the link to learn more.
VijayRaghavan, The Infosys Prize 2009 in Life Sciences
Satyajit Mayor. The Infosys Prize 2012 in Life Sciences
Yamuna Krishnan, The Infosys Prize 2017 in Life Sciences
Upinder Bhalla, The Infosys Prize 2017 in Physical Sciences
Mahesh Sankaran, The Infosys Prize 2021 in Life Sciences