Seeing is believing. But what happens when one deals with really tiny structures, invisible even to visible light? 
Deepti Trivedi
Electron Microscopy is a technique used to obtain high-resolution images using electrons rather than visible light. During my PhD, I wanted to know if the loss of a particular protein I was studying led to ultrastructural abnormalities at a cellular level. For this experiment, I had imaged Drosophila Rhabdomeres using electron microscopy. This was exciting, not only because I was seeing various cell organelles for the first time but also because I could clearly visualize a few intracellular abnormalities in the mutant flies that I had created. I also remember feeling extremely daunted by the perceived fragility of the equipment that must be handled with utmost care.
On our campus, we have a state-of-the-art electron microscopy (EM) facility.  I am very curious to know what improvements have occurred in the field of Electron Microscopy over the past decade since I last looked at those Rhabdomeres. The EM facility is currently headed by Dr Priti Bharadwaj. Welcome, Priti. Let's start by knowing what your facility does!
Priti Bharadwaj
Electron Microscopy Facility deals with high-resolution imaging from micrometres to a few nanometres using electrons and X-rays as a source. Our facility has three electron microscopes (scanning electron microscopy, transmission electron microscope Talos 200Kv and Techni T12) and a micro CT machine which uses X-rays for imaging. We are equipped with the instruments required for biological and material science sample preparations.  Ours is an operator-free facility. We provide training on each machine to the internal users so that they can use them independently. For external users, we provide services for sample preparation and imaging. We conduct workshops and training programs for external users on a regular basis. In addition, outreach programs help us to showcase our capabilities.
Deepti Trivedi
What kind of samples can external users provide you with?
Priti Bharadwaj
Users can submit biological and material science samples. Whenever we get external requests, we provide them with standard protocols for sample preparations.  Usually SEM preparations need a bigger sample size, whereas the TEM samples need to be small and with precise size to ensure good fixations. The samples that are not fixed properly are not accepted for biosafety reasons. We can accommodate only BSL1 samples in our facility. BSL2 samples are accepted only if specific fixation protocols are followed.  The user has to submit undertaking forms before we start the process, and we discuss with the users about their samples.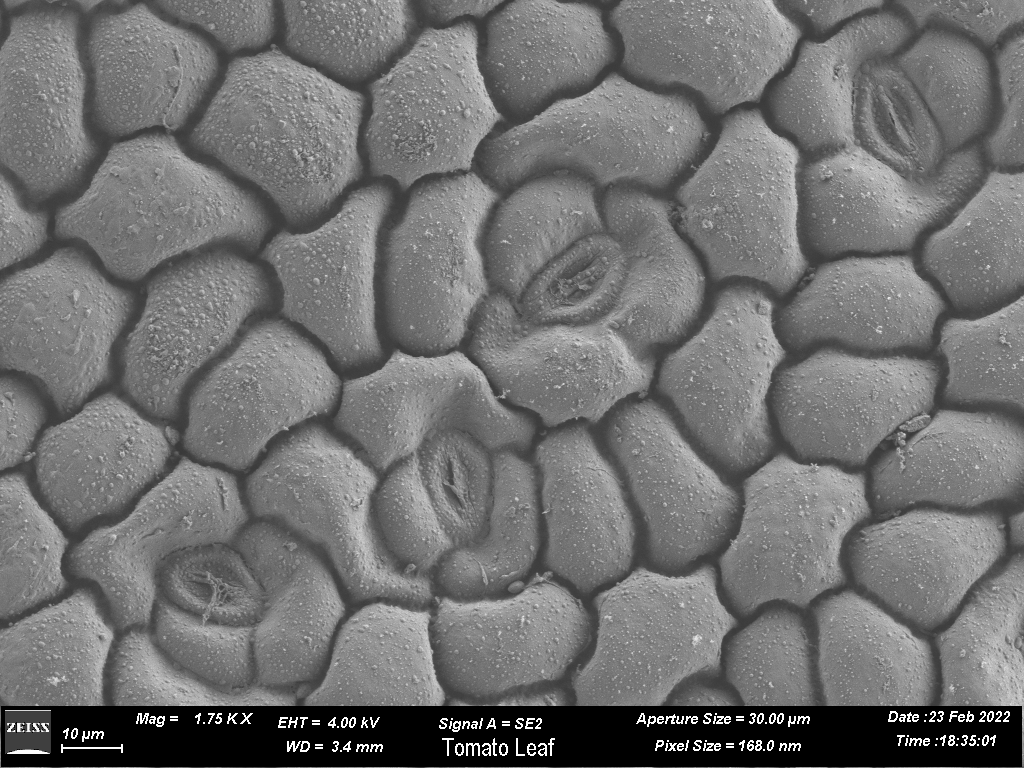 Scanning Electron microscopy image of a tomato leaf
Deepti Trivedi
Should the external user directly contact you when planning to use the facility?
Priti Bharadwaj
We receive external samples through CCAMP, who are our business partners. An external user can directly contact me or through CCAMP. If the external user writes to me, I forward their email to the CCAMP team. At the facility, we deal with sample processing and imaging, while CCAMP provides them with the usage and billing procedures.
Deepti Trivedi
Once they give you the sample, how do you know what to look for?
Priti Bharadwaj
During the initial discussions, in addition to discussing how to prepare the samples, we also discuss what they are looking for. We ask them for published papers with protocols and methodology, and articles where similar regions or tissues have been looked at. Accordingly, we also do literature surveys and discuss with the users if they are looking for similar features. Also, sometimes the user accompanies us during the imaging process.
Deepti Trivedi
So, a lot of intellectual input also goes in, in addition to the imaging?
Priti Bharadwaj
Yeah. That is very much required.  For every request, we have to understand the question, they want to answer using EM. The literature survey helps in the analysis of the sample sent by the users, and we try to correlate our results. We standardise our own sample preparation methods whenever needed.  In spite of all the homework, occasionally we may miss the specific details that were being sought, and so we redo the imaging.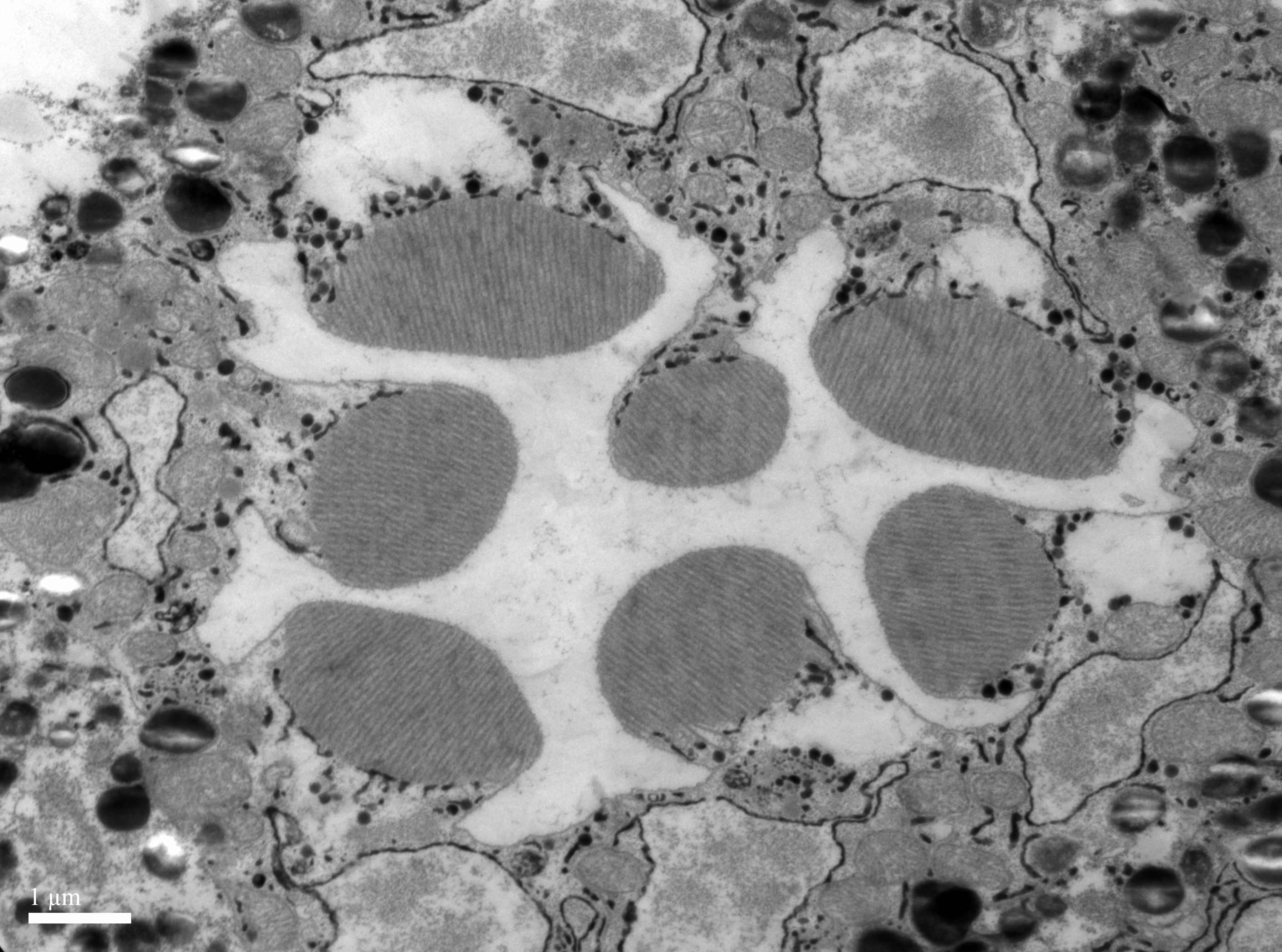 Transmission Electron microscopy image of Drosophila rhabdomere
Deepti Trivedi
When did you join the facility? And what are your achievements so far?
Priti Bharadwaj
I joined this facility in January 2021. I had previous experience with Electron Microscopy, but this was my first time as a facility manager. I joined NCBS soon after completing my PhD.  Now I have gained the administrative and management skills required to run this facility with the cooperation from the administration. In the past two years, approximately 60 users have been trained in the EM facility on different techniques, with more than 25 research articles having been published in peer-reviewed journals acknowledging the EM facility. Recently, we have been conducting workshops for external users. The feedback and the publications by the users keep us motivated. I plan to organise more such workshops and outreach programs in the future.
Deepti Trivedi
This is great. As I understood, you joined the facility right after finishing your PhD. What led you to pursue this position?
Priti Bharadwaj
During my PhD, I felt that imaging experiments were more interesting than molecular or biochemical assays because one could directly visualise the phenotypic changes in samples. At that time, I was looking at rat lungs with cancer, and I had to study the structural changes in the tissues as compared to the healthy controls. Since an Electron Microscopy facility was available at AIIMS, New Delhi, I went there to do these experiments. I was fascinated by EM, and found the whole process very interesting. I approached them to train me further. The training exposed me to various types of samples, and it was quite amazing to see them. After that, I started looking for jobs where I could use my acquired expertise in EM. 
Deepti Trivedi
During your PhD, what kind of electron microscopy did you use?
Priti Bharadwaj
Electron Microscopy results are an integral part of my PhD work. I have used both, Scanning Electron Microscopy (SEM) and Transmission Electron Microscopy (TEM) during my course. However, I have used TEM more and have put a lot of time into standardizing the protocol for TEM sample preparation.
Deepti Trivedi
When you see samples from the users, there must be some samples that excite you more than others. Are there some special interests?
Priti Bharadwaj
Yeah, biological samples always delight me and are quite challenging too. If I receive tissue samples of the lungs or liver, they pique my interest because I can correlate with them very easily. Having said that, the excitement when we receive a sample that we have never imaged before is something else. So we start the process with standardization of sample preparation, then imaging and finally the analysis, and it is a learning process for me. I think that's the beauty of working in the facility that you will be dealing with various samples, and each will have unique ultrastructure.
Deepti Trivedi
Is your facility also interested in the 3D reconstruction of EM samples?
Priti Bharadwaj
Yes, but this part is done by micro CT. In micro CT, you don't need much sample preparation. We can put the whole sample inside the machine. The sample rotates, and with each rotation, an image is collected. These images are used in the reconstruction of 3D images. Once 3D reconstruction is done, we can virtually dissect the sample in XYZ planes to analyse.
Deepti Trivedi
I think I have seen some 3D reconstructed mosquito musculature from your facility. Do you provide this type of analysis as a service also?
Priti Bharadwaj
Yes, we do, but the user has to tell us in advance.
Deepti Trivedi
What are your hobbies, and how do you decompress after the day of work?
Priti Bharadwaj
Usually after going home, I cook and watch some web series. If I have time, I paint or read a book. To decompress myself I usually opt for trekking on weekends.
Deepti Trivedi
Wonderful. Being in Bangalore, there are so many trekking options in the Western Ghats. Where have you trekked so far?
Priti Bharadwaj
Yes, in Bangalore, we have many options for trekking. Last year I did not explore much due to COVID restrictions. Now I have started exploring. Here I have been to Nandi hills, Chikkaballapur, Antara Gange, Skandagiri and Shakleshpur. In the North, I have explored many places but have yet to explore the Western ghats.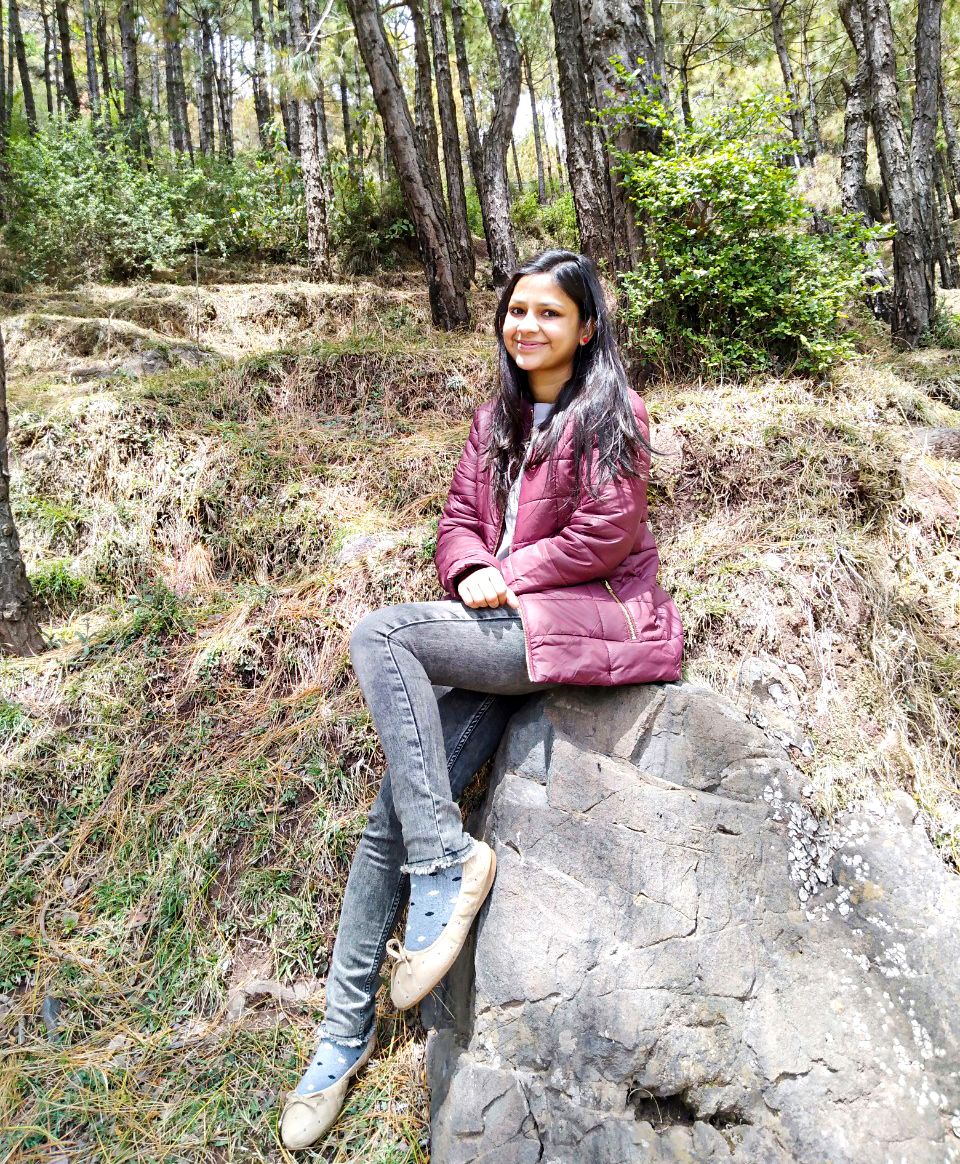 A trek to Skandagiri hills, close to Bangalore
Deepti Trivedi
We should do it together sometime. I also like trekking. How do you see your work being used by the researchers?
Priti Bharadwaj
90% of the samples received in our facility for imaging are from biological sciences. Being a biophysicist, I can understand user requirements and can provide them with solutions for sample preparation and analysis. Nowadays, we are receiving a lot of samples from pharmaceutical companies for drug screening. Several scientists and dentists are exploring MicroCT machines for their studies. I am still in the learning phase for material science sample analysis. Although these machines are extensively used in material science, they are now again in the limelight for biological applications. In the future, I am expecting more samples from pharmaceutical companies for quality control studies related to tomography, as everyone wants to know more about the 3D details.
Deepti Trivedi
Thank you for your time, Priti. This was very useful and informative. I wish you all the best in your work.