Reliable identification of newly discovered species is vital for field biologists. Access to a type specimen repository to submit stocks to, and an expert taxonomist/systematist to identify and classify them is important for comparative studies.
Dr Yeshwanth HM heads the collections facility on our campus. He is a field biologist by training, with a vast experience in identification of invertebrates, and has discovered 50 new insect species on his own.
Deepti Trivedi
Welcome Yeshwanth. Could you please tell what your facility does?
Yeshwanth HM
The Museum facility or the research collection facility is a facility where biodiversity-related work happens. Researchers working on taxonomy, ecology, and conservation use our facility. Our facility serves as the national repository of type specimens and other specimens of research importance to NCBS and to the broader global community of biologists, including dry and wet collections of specimens. Most of the dry collections are insects, butterflies and moths collected by various researchers. Wet collections include snakes, frogs and geckos etc, deposited by various researchers from different institutes and our own researchers. We also do our own specimen collections from the field. These collections are used for conducting training programs, outreach activities and exhibitions. Our facility acts as a repository for many newly discovered or published new species. We have an air-conditioned, completely climate-controlled facility which preserves these samples.
In addition, we also have an adjacent but separate work area for curators and research scientists, which is well-equipped with microscopes, an imaging facility, instruments and supplies required for taxonomic and ecological work of various kinds, to enable scientists to work on specimens.
The Collections facility offers a fully equipped working space to scientists 
Deepti Trivedi
Interesting. If somebody publishes or discovers a new species, how do they decide they should deposit it to this collection? Do you advertise your facility?
Yeshwanth
If someone publishes a new species, they are already looking for a safe repository where their specimen will be preserved. Known colleagues and researchers connect directly with me to deposit their samples. Many researchers send an email before submitting their manuscripts for publications and we provide them with a unique deposition number or code, which will be mentioned in the publications. It is very important to deposit the species in many well-equipped museums and repositories to ensure their longevity and safekeeping.
Deepti Trivedi
Once a researcher deposits their specimen to your collection, what kind of rights do they have on these collections? Who does the specimen belong to?
Yeshwanth
The rights to the specimen belong to the institute as the depositor mentions in their publications that the specimen is being deposited to the NCBS research collections. However, the specimen is available to any researcher who is interested to examine the specimens for their research. Type specimens are precious, and we have to ensure that they are handled with care when being studied. We also provide high-resolution images of these specimens when requested.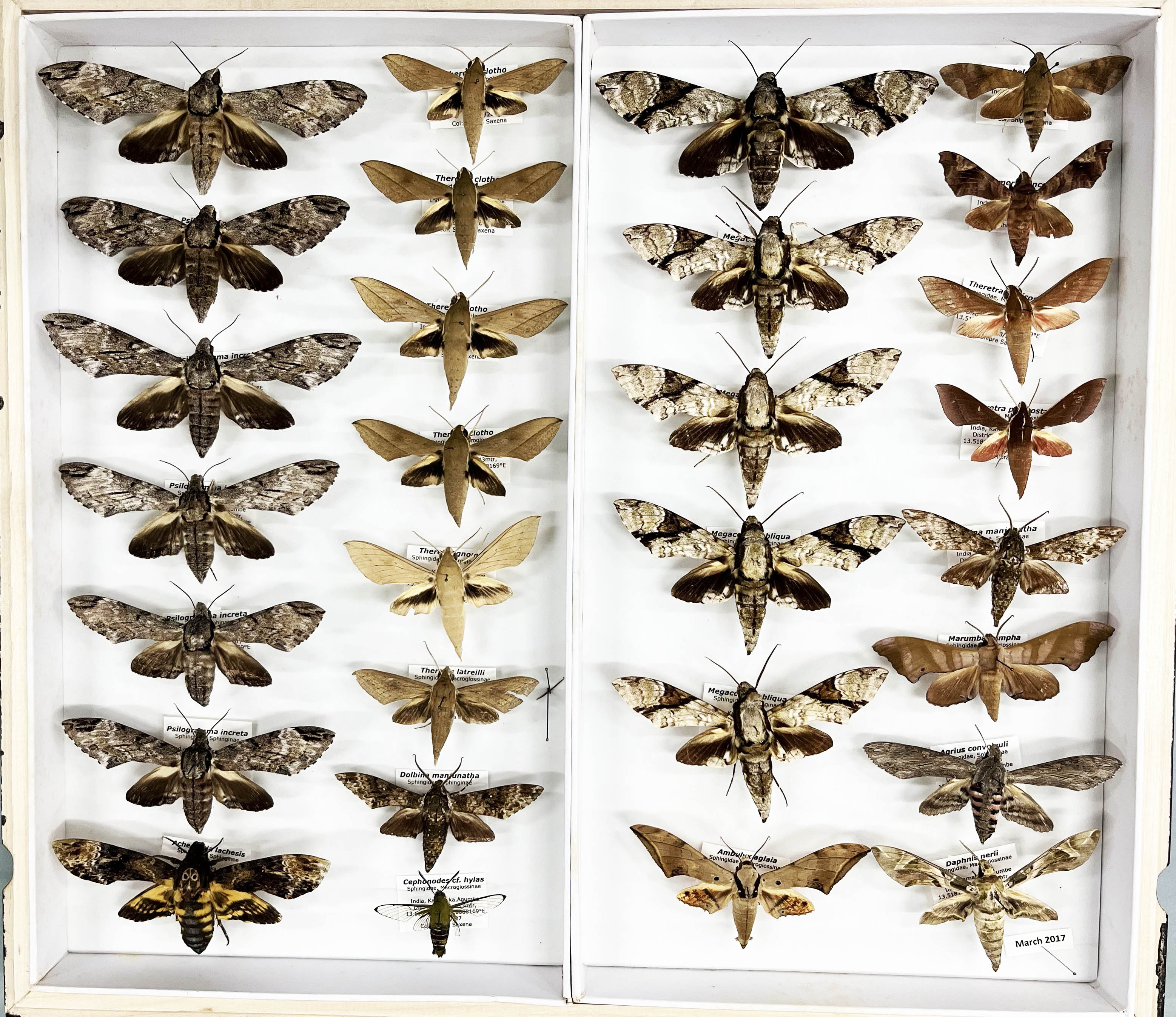 A collection of moths at the collections facility, NCBS
Deepti Trivedi
How many such facilities are there in India?
Yeshwanth
In India, we have such facilities in many institutes and universities. However, many of them are smaller research collections or do not have a climate-controlled repository as the maintenance costs are high.
Deepti Trivedi
How many new species do you have in your collection?
Yeshwanth
We have about 500 species (including snakes, frogs, lizards and insects) in our collections. This year we have received 32 newly discovered species.
Deepti Trivedi
That is amazing. What is your background, and what led you to pursue this field?
Yeshwanth
One of the reasons why I pursued a BSc in agriculture is because my family was into agriculture and farming. During BSc, some of the coursework required us to go to the field and collect specimens, such as diseased plant specimens and insect specimens and make observations. Insects have always fascinated me. A background in farming and encouragement from my teachers allowed me to get more interested in Entomology.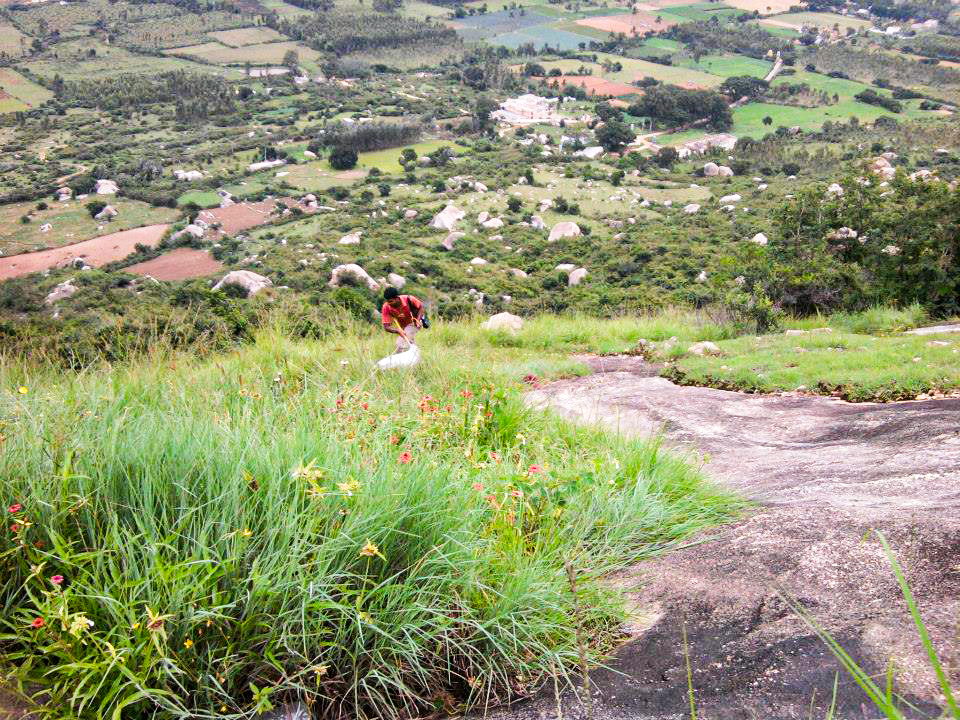 A collection facility in-charge should be a good field biologist
Deepti Trivedi
This is really fascinating. What are the special skills that you need to be an entomologist or a museum facility In-charge?

Yeshwanth
When one says "Museum in-charge", people usually think you have to be inside a room. It's not that. To be in-charge of a museum, you should be a good field biologist too. It is very important that you go to the field often, look around and learn from the fieldwork. Then getting into the museum becomes easier. The more you understand, the more you go to the fields. The group of organisms that we study are better understood in the field, especially with respect to their behaviour, habitat, sexual dimorphism, and dietary choices. Being equipped with such understanding allows us to collect more specimens of the same type. For example, if I am working with a group of insects that becomes active in the late evenings, I have a good chance of getting more specimens during dusk.
Deepti
In addition to the Collections facility, you are also associated with the NCBS field station. I am curious to know what happens there?
Yeshwanth
We have a field station at Pachmarhi, in Madhya Pradesh, that provides state-of-the-art facilities for field research, including space for bench work, scientific equipment, lab space, field hands and instruments. It also provides local logistical support for visiting scientists, and works closely with the state forest departments, and local Non-Governmental Organizations (NGOs). Pachmarhi field station is also involved in various outreach activities. Dr Savita Chib, who's the in-charge there, conducts outreach activities for local schools and colleges. She is trying to teach local and tribal kids various aspects of ecological research. Prof Sanjay Sane's lab does long-term moth observations and conducts various fly behaviour experiments. There is a long term weather station for continuous climate monitoring. MSc Wildlife students conduct various field studies at Pachmarhi. A few NGOs have MoUs with NCBS and use the facilities too. The Wildlife Conservation Trust studying the ecology of the Indian Pangolin in the Satpura Tiger Reserve is one such NGO.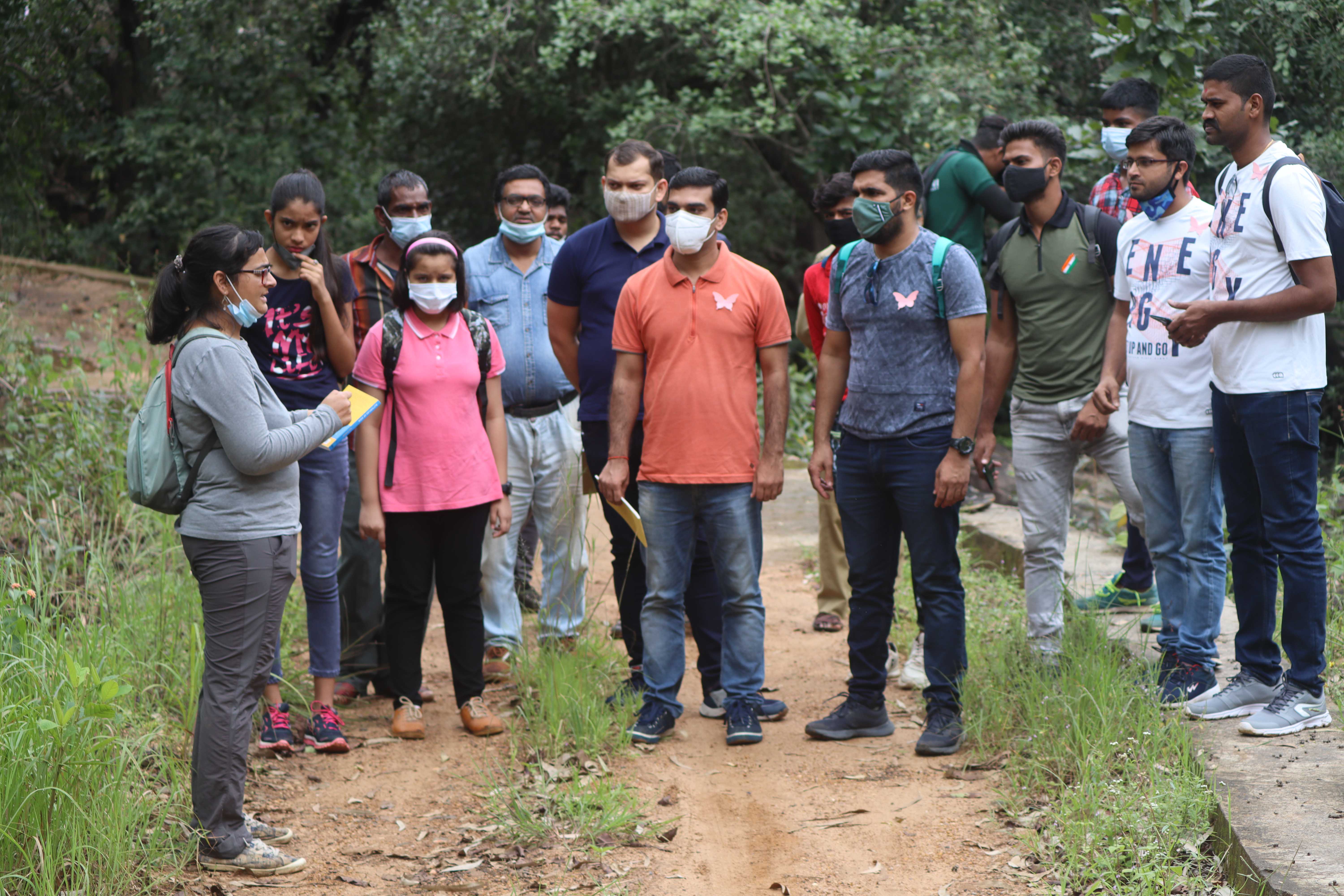 Dr Savita Chib at NCBS Field Station, Pachmarhi
Deepti
Wow. I would love to visit the field station sometime and perhaps take part in some of these outreach activities. As a child growing up on a farm, were you aware of insects around you?
Yeshwanth
Yes, of course. I used to collect insects. For example, jewel beetles are one of the most collected insects in the bean fields and are pests. We used to keep them in the match stick boxes. My grandfather also helped me collect them. Our family lived very close to a lot of vegetation and scrub jungles which I explored a lot. In fact, I still use these places as my secret collection spots. During my undergraduate years at GKVK, most students collected insects in the Botanical Gardens and ended up exhausting them. But I had a bunch of friends who used to visit my place and go around collecting insects. I have described four or five new species from those same places.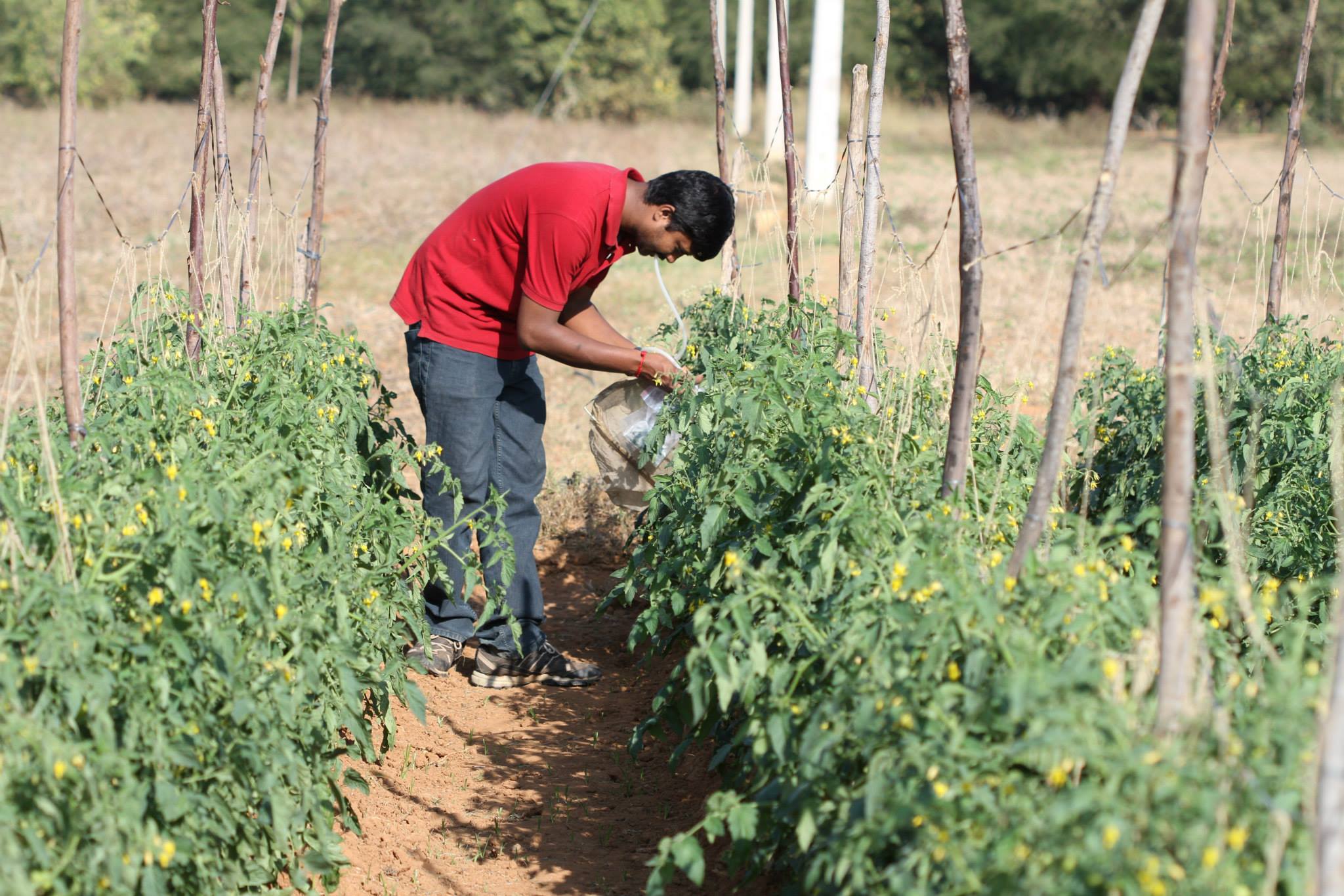 Insects fascinated Yeshwanth while growing up in a farm
Deepti
So, you developed this interest very early on. For the benefit of kids who may want to collect insects, how should they go about it?
Yeshwanth
Many insects are attracted to light. Just a mercury lamp lighting the street is sufficient to look for insects. Especially during the rainy season, many large beetles become attracted to these lights. These days we find fewer and fewer of them coming for many reasons, like habitat loss and light pollution. Kids can look for them at parks or places with native plant species where the chances to find them are high.
Deepti
This already looks so much fun. But let me ask, what are your hobbies?
Yeshwanth
I used to play a lot of cricket, but now I don't. Once I got into my PhD in taxonomy, I started getting interested in photography as a hobby. However, now it is a much-needed tool for my research work. As a hobby, I collect insects and do high-resolution photography of insects.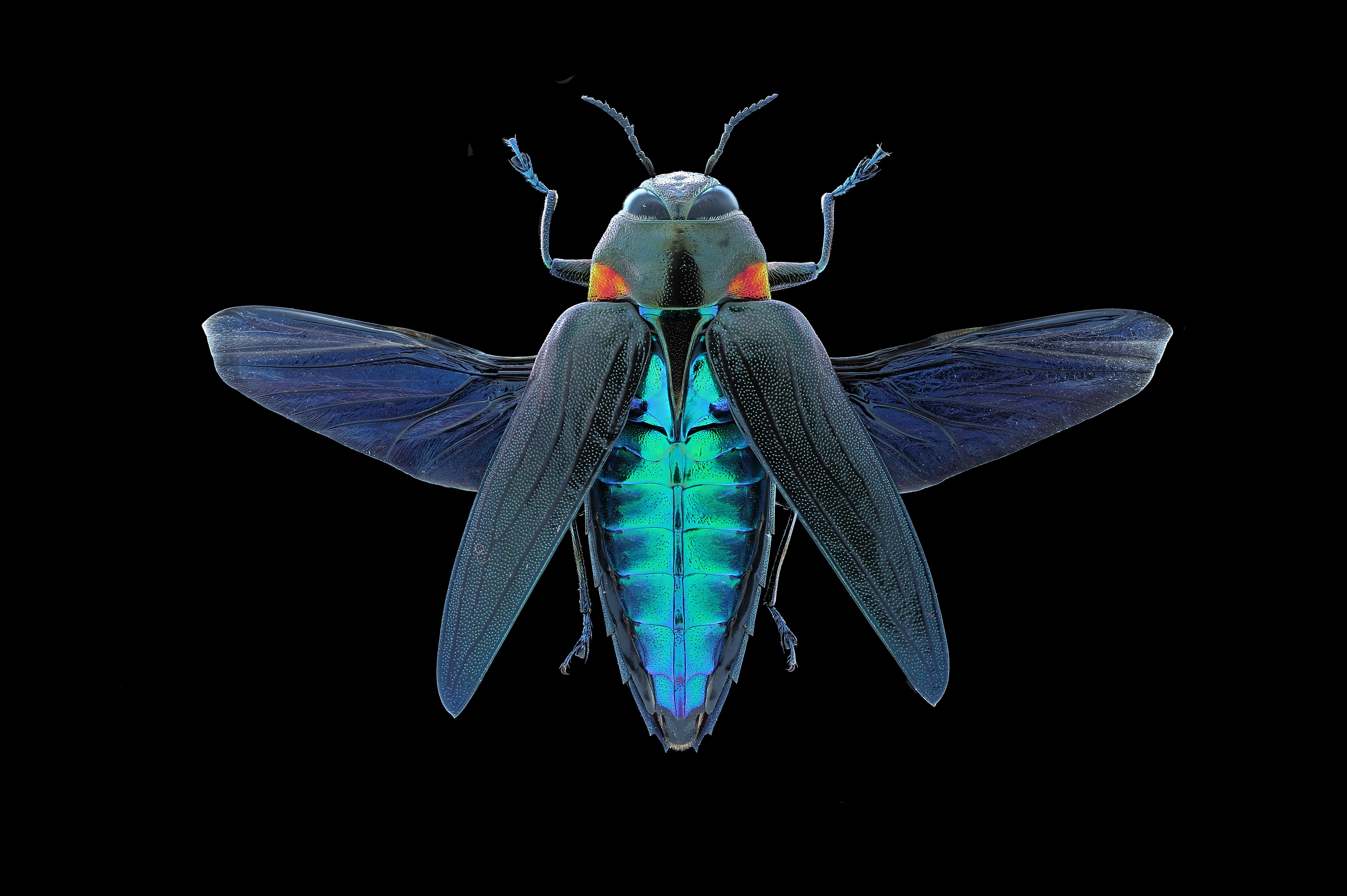 Yeshwanth is interested in high resolution photography of insects: Here is a Jewel beetle
Deepti
How do you see your research being used?
Yeshwanth
Identification of an organism is important for any ecological, behaviour or pest management related studies. Without species identification and classification, the data about these organisms is meaningless and hence unpublishable. I try to identify and provide identification services to the maximum extent possible (family, subfamily, genus and species wherever possible) to the students and researchers who send me specimens from various institutes of the country.
Deepti Trivedi
Great. A final question on behalf of students from schools and colleges who may want to come and visit your facility. How should they approach you? Also, do you provide training in specimen processing and preservation?
Yeshwanth
Most schools and colleges approach our communications office. A few write directly to us. We receive students on a weekly basis. Also, teachers from state universities and institutes visit us as a part of their studies to learn more about the preserved diversity and collections at the museum. We do train the researchers in specimen preparations, preservations, and identifications and conduct short training programmes for students and researchers.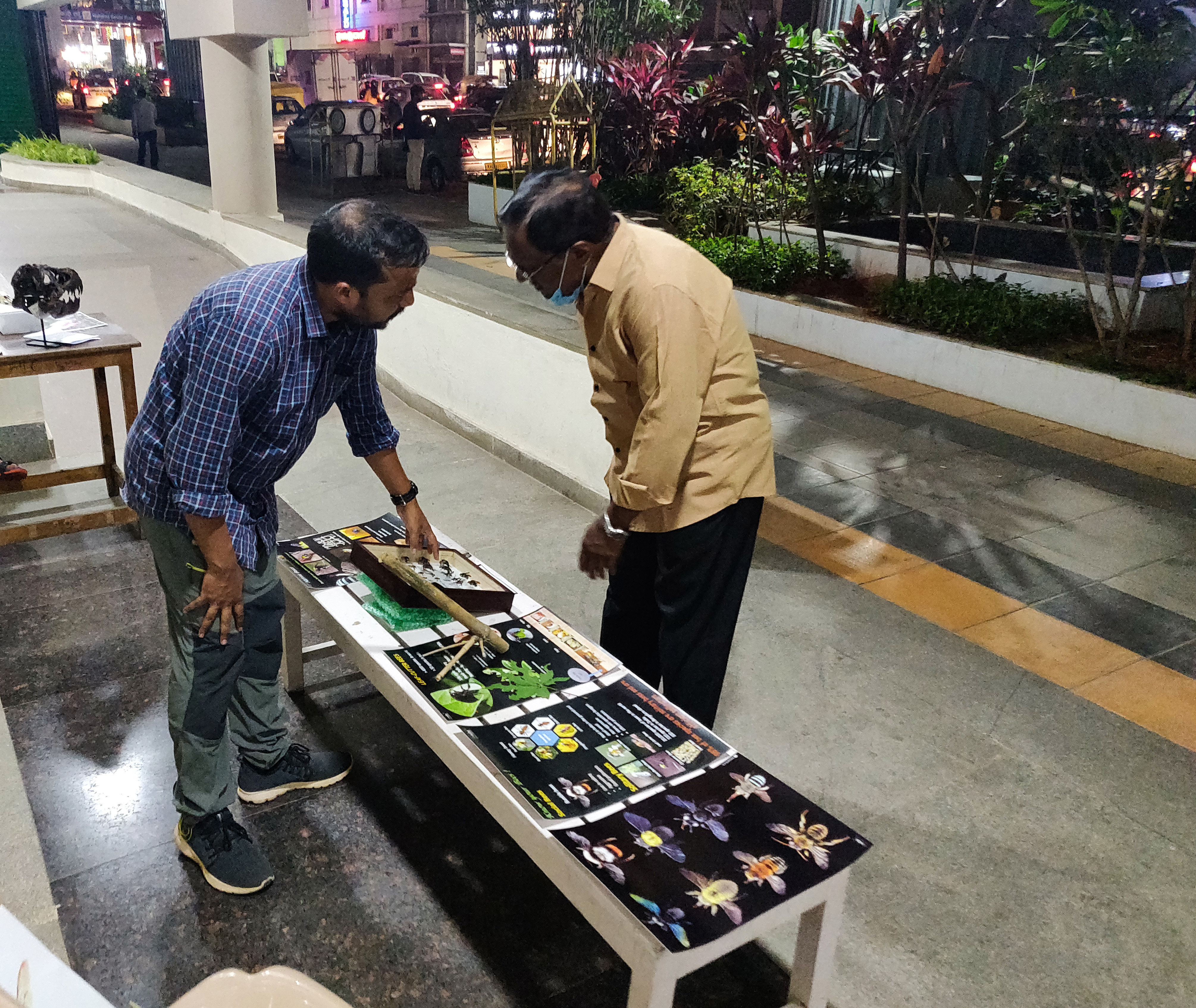 Tarun Karmakar, Curatorial Assistant at the Collections Facility delivering outreach activities at the Rangoli Metro Art Gallery, Bangalore