Fever in the Labs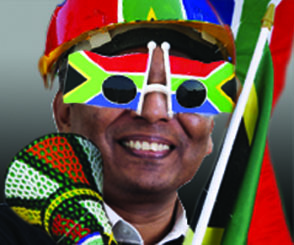 An epidemic has spread through NCBS and authorities are clueless on how to deal with it. Come 5pm and instead of running to catch the shuttle back home, students are glued to their laptop screens watching the latest football match. PIs all over have been complaining that lab productivity has dropped to near zero levels.
The symptoms were first noticed two weeks ago when students from Upinder Bhalla's lab were found screaming and jumping in the lab. Concerned passersby rushed in thinking there may have been a lab mishap but it turned out that Lionel Messi had missed a goal. As days passed on, many small groups of students were seen in the hallways whispering and gesturing wildly like plotting conspirators. A student who wished to remain anonymous for fear of reprisals told us that they would gather in one of the labs on the second floor and watch the game.
The effects have been seen in other places too. Jyotsna Dhawan was overheard complaining "generally all these guys used to sleep during lab meets, but now they are all excited about it, it was bizarre." PIs have tried various means to get students "back on track" but so far no one has been 'successful'.
Students too have pointed out that some of the PIs seem to be leaving rather earlier than usual and there have been persistent rumours of PIs gathering at the NCBS guest house. Also noted: the projector from LH2 has disappeared. None of the PIs were willing to comment about it but they were more than willing to talk about falling productivity levels.
Many students who talked to us complained that since this is a once-in-four-year event, some concessions should be given. "Net speeds are appalling" said one student who wanted to remain anonymous, "and there are no beverages and food items available for late night matches."
Talking to VijayRaghavan (pictured at a secret location at 4.37pm on a match day) we were told that he had received many emails about the matter, but he was a bit too busy "right now" to say much more. He did add however, adjusting what he referred to as his "prescription sunglasses", that a committee had been set-up to consider these complex issues, but that "pre-existing commitments" meant the earliest they could meet would be July 12th.