The Second Science Journalism Course at NCBS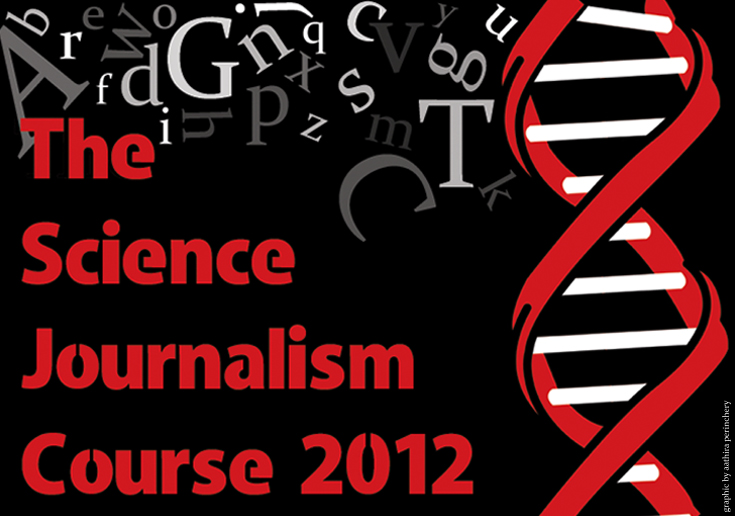 NCBS announces its 2nd annual science journalism workshop, which will be held on campus from July 11 to July 27, 2012.
The workshop's main objective is to impart to students the basic skills necessary for communicating science to the lay person via the written word.
Students will learn the elements of good science writing and the art and craft of conducting good interviews. They will also be introduced to the importance of investigative science journalism and the ethics code for journalists. The workshop will focus on news and features, which will lay the basis for a career in communicating science to the lay person. Popular science writing isn't merely about summarising an academic paper. Rather, it strives to entertain and educate, provide multiple points-of-view, and at its best, play the role of the Fourth Estate, an independent and necessary component for a thriving culture of scientific enquiry.
The workshop will demand active and committed participation from students. They will have to interview scientists, write news and feature stories, which will be edited by the instructors.
Students from outside NCBS are encouraged to apply. Accommodation will be provided on campus for up to 5 out-of-station students.
If you are interested please email Anil Ananthaswamy or Geoff Hyde at ncbs.workshop.2012@gmail.com by June 10. Each applicant should send their CV and write a short essay, of no more than 500 words, describing his or her reasons for wanting to join the workshop. Prospective students will be interviewed on 14th or 15th June, 2012, either in person or remotely. If selected, students will be required to enter a deposit of Rs 2000 to confirm their place; this will be refunded at the end of the course, provided the participant has shown appropriate commitment.
INSTRUCTORS
Peter Aldhous: Bureau chief, New Scientist magazine, San Francisco. Peter is a PhD in animal behaviour and a veteran science journalist. He was news editor at New Scientist, chief news and features editor at Nature, and European correspondent for Science. He teaches investigative science journalism at the University of California, Santa Cruz.
Anil Ananthaswamy: consultant, New Scientist magazine. Anil has a BTech (IIT Madras), MSEE and trained as a journalist at the University of California, Santa Cruz. He has been with New Scientist magazine in various capacities since 2000, most recently as deputy news editor and physics news editor. He has taught as guest lecturer at UC Santa Cruz's science writing program. He is the author of The Edge of Physics, a popular science book on modern cosmology and astroparticle physics, which was voted Book of the Year 2010 by Physics World, UK.
Geoff Hyde: Coordinator, Science Communication, NCBS. Geoff is a PhD in cell biology and has written 24 papers and book chapters on the subject. He was on the faculty of the University of New South Wales, where he coordinated the biology department's "Professional Skills" course. He runs several courses each year at NCBS and elsewhere in India on academic scientific communication. He has developed a novel, simple framework for thinking about scientific enquiry, analysing papers and talks, a technique that science journalists can use while interviewing scientists and reading research papers.