Mayor and Sane receive International Human Frontier Science Research Grants for 2012
Tuesday, April 24th, 2012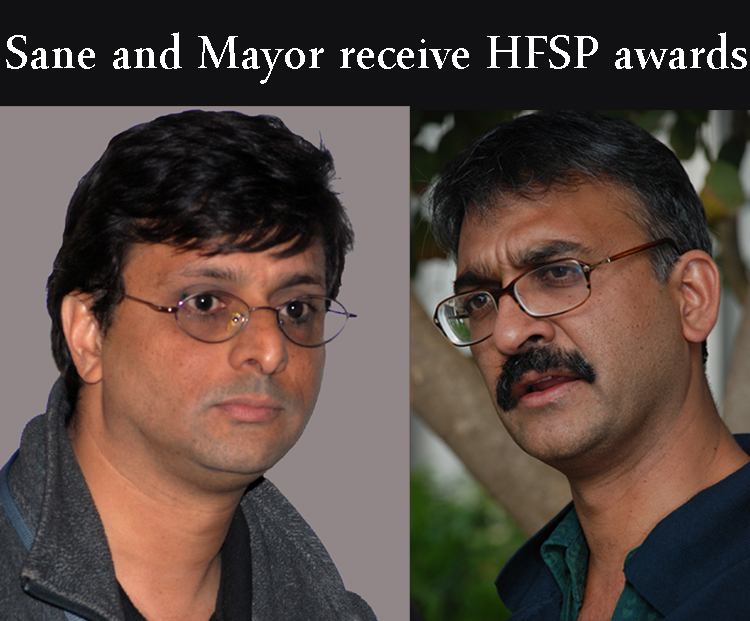 The Human Frontier Science Program (HFSP) has awarded two International Human Frontier Science Research Grants to NCBS faculty, Satjayit Major and Sanjay Sane. They are among the 86 scientists to receive the program's research grants this year.
Mayor received the HFSP research grant for a project titled "Nano-Mechano-Biology: Spatiotemporal remodeling of membrane nanoplatforms under mechanical forces" with collaborators Maria Garcia-Parajo (IBEC-Institute for Bioengineering of Catalonia, Spain), Alessandra Cambi (Centre for Molecular Life Sciences, Netherlands) and Diane Lidke (University of New Mexico, USA).
Sane, who mainly studies insect flight mechanics, will use his grant to work on a collaborative project titled "From swarm intelligence to living buildings: Novel concepts of managing internal climates" with fellow scientists Scott Turner (SUNY College of Environmental Science and Forestry, USA), L. Mahadevan (Harvard University, USA), Eugene Marais (National Museum of Namibia, Namibia) and Rupert Soar (Greenwich University, UK). Under the grant, each team member will receive an average of $110000-$125000 per year for three years.
Such international collaborative projects have a strong advantage when being considered for the HFSP research grants. The program funds projects under the broad theme "Complex mechanisms of living organisms". Apart from research grants, the HFSP also awards postdoctoral fellowships and career development grants. Its aims "are to promote international collaboration and training in cutting-edge, interdisciplinary research focused on the life sciences."
This is not the first time a HFSP research grant has been awarded to NCBS faculty. Ramanathan Sowdhamini, faculty of the Biochemistry, Biophysics and Bioinformatics group at NCBS had received a similar grant in 2009.
You can access articles featured in print media about the grants awarded to Mayor and Sane below:
http://www.thehindu.com/todays-paper/tp-national/tp-karnataka/article3278970.ece
http://epaper.dnaindia.com/epapermain.aspx?pgNo=6&edcode=860009&eddate=2012-04-04