A LABORATORY WITHOUT WALLS
Tuesday, February 3rd, 2015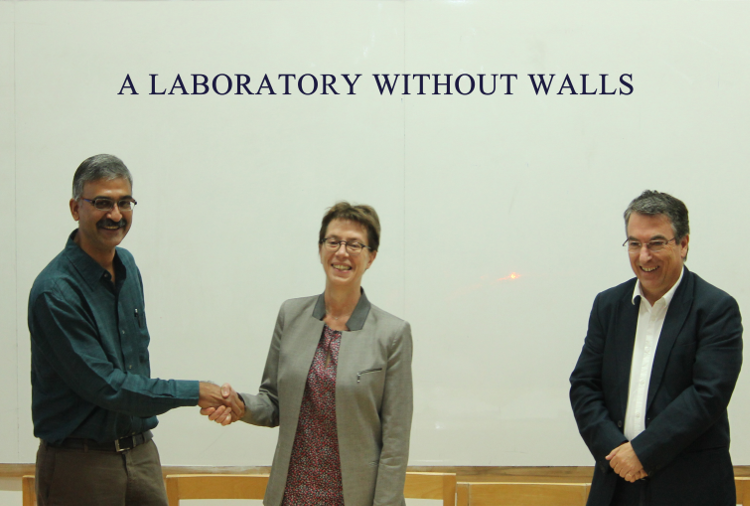 Researchers at NCBS have signed a new agreement with the Developmental biology Institute of Marseille (IBDM) and the Centre National de la Recherche Scientifique (CNRS) to put in place a LIA or a "Laboratory without walls".
Attending the event were several eminent researchers and administrators from the collaborating organizations. The agreement was signed by the Director of NCBS, Prof Satyajit Mayor, Dr Catherine Jessus, the Director of the CNRS Institute of Biological Sciences (INSB) and Dr Andre le Bevic, the Director of Developmental biology Institute of Marseille (IBDM).
The LIA has been set up in the backdrop of a collaboration between NCBS and the Developmental biology Institute of Marseille (IBDM), primarily between the laboratories of Satyajit Mayor and Thomas Lecuit. Titled SysTiM, or Systems Biology of Tissue Mechanics, the LIA brings together biologists Mayor & Lecuit with experimental and theoretical physicists Pierre-Francios Lenne and Madan Rao in an interdisciplinary project aimed at understanding the biochemical and physical basis of epithelial tissue organization and dynamics. The complementary expertise of the French and Indian partners will enable a quantitative study of these dynamic processes at different scales of organization. The collaboration will allow for the exchange of researchers in both directions and for new directions to emerge. Also envisaged are a series of annual workshops that will facilitate the sharing of ideas and training of early career researchers.
Scientific research requires a meeting of minds and approaches and these are beyond separation by boundaries and walls. The new "Laboratory without walls" joins a range of international collaborations between NCBS and other leading scientific organizations in the world including the Max Planck Society, the University of Cambridge and RIKEN, to name a few. Each of these engagements serves to further a specific scientific theme and is facilitated by considered scientific collaborations and the requisite creative administrative tools.