ETH Big Band Revs up NCBS
Saturday, January 2nd, 2010
ETH, Zurich is an illustrious science-focussed university, ranked among the world's best. But for its researchers, like their NCBS counterparts, life is not all work and no play.
And the extraordinary quality and zest of the evening performance of the ETH Big Band at NCBS recently showed that they have been putting their play time to very good use!
Few among us at the mini-concert had seen a Big Band live before, and I think many like me had doubts that an amateur troupe could deliver those big, inspiring moments when the output of twenty or thirty instruments mesmerizes and sweeps you into its layered, swaying fusion.
Any non-believers in the crowd could not have been more wrong!
From the first tune, the swirling, curling swing of the music convinced the audience that we were in the presence of true masters. And, before too long, the persuasive rhythms, bullying their way into every room at NCBS, had soon made an irresistible case to those who remained at the bench. Under the welcoming canopy of the trees near the main entrance, the crowd swelled and so did the music along with it.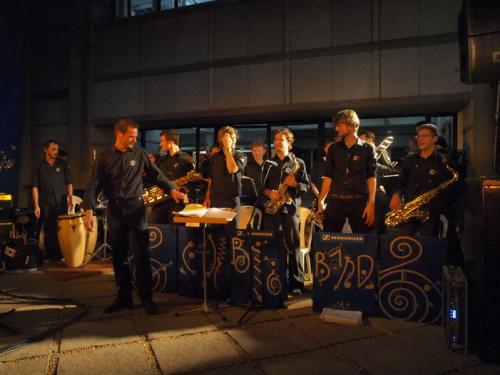 No-one left NCBS that night untouched by the grand vision of massed, syncopated sound.
Thanks ETH Big Band!
You can read more about the Big Band India tour's here