Thirty five years after
Thursday, June 21st, 2012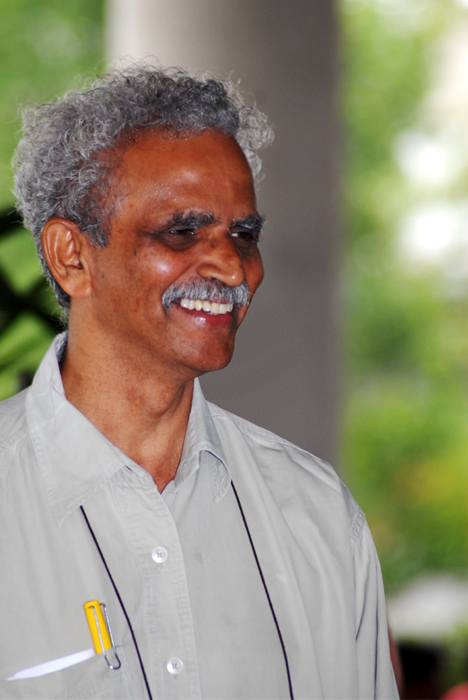 T.M. Sahadevan, Head of Development Activities at NCBS retires from NCBS on July 6, 2012. Read on for a stream of sub-consciousness about his career.
Sahadevan has a role in the making of history at the Tata Institute that is unique. He joined the Indian Institute of Science (IISc: he was a classmate of E. D. Jemmis, now the Director of IISER Trivandrum) but left to take up an administrative job at TIFR.
Sahadevan's early days are summarized well by Professor Govind Swarup, a pioneer in radio astronomy and founder of the Ooty radio telescope, the giant meter wave radio telescope (GMRT) and TIFR's National Centre for Radio Astrophysics (NCRA) in Pune. Professor Swarup wrote to Pradip Pyne: "Thanks for putting my name upfront in the memento to be given to Shri Sahadeven. May I summarize some of his contributions. I have seldom seen an administrative Officer, who is a such a good friend of scientists that he knows their needs in advance! As I recall, he joined TIFR in 1972 to work at the Joint program of TIFR Maths and IISc. In 1975 or 1976, it was decided to make a Joint building of TIFR Maths and Radio Astronomy Group of TIFR at the IISc next to the Electrical Engineering Department. The building was completed by 1977 and the second summer school of Radio Astronomy and Astrophysics was held in the TIFR Centre, the first at St.Joseph's. I depended totally on Sahadevan in organizing both as I was located at Ooty and was very impressed by his organizational skills. I may add that several attendees of both the schools joined radio astronomy and astrophysics, Saikia, Chanda Jog, Shukre, Sri Kulkarni and many others. In 1977, Sahadevan became Administrative Officer of TIFR Centre at IISc. Kapahi joined TIFR Centre after his sabbatical in Holland in 1980. In August 1986, I and many others shifted from the Radio Astronomy Centre at Ooty, to the TIFR Centre at Bangalore in order to design the GMRT. Many more including administrative and technical staff were hired. Essentially, the basic design of the GMRT was done during the short period of 3 years: structural and mechanical by M/s Tata Consulting Engineers and electronics by our engineers. Many of the major components of the GMRT, such as the 30 numbers of Azimuth bearings and 60 numbers of important gear boxes were imported costing many crores, despite Foreign Exchange restrictions and DGDS bureaucracy thanks to Sahadevan and a newly hired Purchase Officer (today people will wonder as to why I am highlighting it!). In 1989, Sahadevan joined the newly created NCRA at Pune (including RAC at Ooty). Sahadevan again contributed very significantly to its initial organization and growth. In 1991 or so, he opted to shift to NCBS at Bangalore due to family reasons as his wife was a scientist working at ISRO. We missed him at NCRA. I understand that he played a vital role at NCBS. To sum up, Dr. Chris Salter, a radio astronomer from UK and now in USA, who was at TIFR Centre at Bangalore during 1987-89 told me: "I have seldom seen an administrative officer, who is such a good friend of scientists that he knows their needs in advance!"
As NCBS grew at the IISc campus, Sahadevan played a vital role in making sure that all our administrative requirements were in place. The situation then is reminiscent of what pioneers at TIFR's new campus at Hyderabad are facing, only 1991 was a few orders of magnitude different: both simpler and more complex! Funds were near zero, bureaucracy then seemed entrenched without any redemption in sight, yet expectations were modest. I recently heard Sydney Brenner respond to complaints about Japanese bureaucracy by saying: "If its the law obey it, if its the rule change it and if its custom ignore it." Brenner and Sahadevan must have communicated in an earlier avatar, for this was Sahadevan's approach to functioning as well. In response to Sahadevan's ignoring of custom, the TIFR bureaucracy strived hard to convert customs to rules and rules to law (the latter was not possible). This is the classic bureaucratic response when anything exciting or happy is sighted: nip other exceptions in the bud by making a new rule that causes gridlock. For example, it was normal then that permission for travel by air be given by a senior officer. Sahadevan flew from Bangalore to Bombay with appropriate permission to save time and this infuriated the mandarins in TIFR Mumbai, who decided that henceforth only the TIFR Director would sanction travel. Thereby increasing headache in Bangalore and self-imposed paperwork in Mumbai but ensuring that we were put in our place. Sahadevan worked tirelessly with Obaid, Jayant, our external Architect Raj Rewal, Poornima from NCBS, R. D. John (an ISRO Chief Engineer, like Rengaswamy of today) the small faculty we had then and with several others, to construct our first housing and labs on the GKVK campus. Not to mention his active role in working to ensure that we got the site on the GKVK campus in the first place. Sahadevan next played a major role in sorting out all the legal tangles that unraveled after our first lab buildings were constructed. He then headed our Development activities and played a major role in fund- raising and in our intellectual property matters. He took an active interest in the national level with the Wellcome Trust and the Department of Biotechnology (DBT) in the setting up of their India-Alliance and in India's joining the Human Frontier Science Programme (HFSP) and the Young Investigator Meetings. Sahadevan played a stellar role in working with the University of Agricultural Sciences (UAS) to ensure that the land leased for inStem is contiguous with NCBS, allowing the development of a composite campus with a wise use of increasingly scarce national resources. I could go on!
Strangely, having grown unrecognizably from a context of innocent adventure, we may be back in that zone today. Although we look very different 20 years later, we are back in a time when challenges are everywhere and dark clouds of tough times and pessimism loom. Such times require as much of grappling with reality as cocking a snook at it. Sahadevan has this mix. We look-forward to have his post-retirement active presence for sometime in his new role at the inStem administration.