Serendipity: a shockingly sweet protein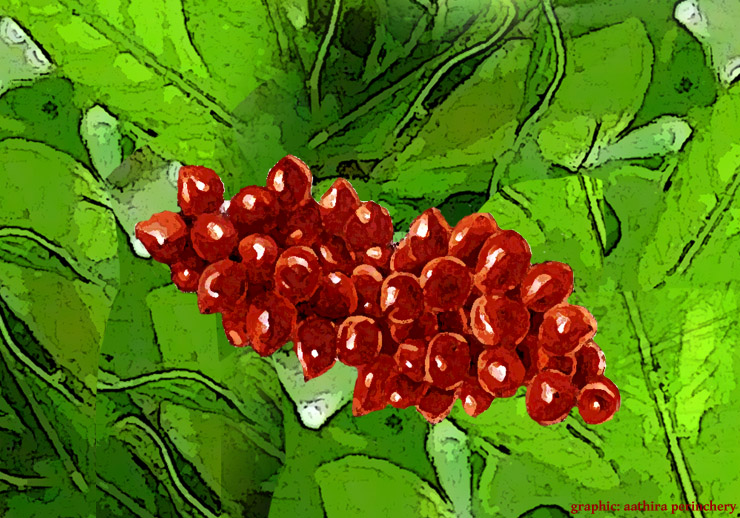 A sweetener 100,000 times as sweet as sugar, carrying almost no calories.
Meet monellin, a super-sweet, low-calorie protein from the serendipity berry, a vine from the tropical forests of Africa. Like other proteins, monellin is made of amino acids, which are joined to form two chains, wound together like a braid. Monellin's special sweetness arises from a kink in the braid that somehow tingles the taste buds. But if any food that contains monellin is heated to over 50°C, the chains unravel, the kink disappears and the sweetness is gone.
The sweetness is not the only aspect that excites scientists at Jayant Udgaonkar's lab at the National Centre for Biological Sciences, Bangalore. Monellin can exist as single and double chain forms - the single chain form is basically the two constituent chains placed end to end. Both forms retain the sweet inducing kink characteristic of monellin. Such a protein, which has two forms, both stable, with similar properties, is a rarity in the world of protein chemistry. Turns out, monellin is an ideal candidate for investigating the mysteries of how chains of proteins braid together to form complex structures, especially the differences between how single chain and double chain proteins fold.
Experiments that compare properties of the two forms of a protein need extremely pure extracts of both forms. A single chain (sc) form of high purity already exists. But, extracting and purifying the double chain (dc) form has proved elusive till now. The dc form is the natural form of monellin, found in the serendipity berry. Till date, it has been extracted from the berry itself, in an expensive process that yields protein of low purity. To ease out future research, and make it more economical, Nilesh Aghera and Jayant Udgaonkar planned to first obtain a lot of monellin efficiently, and then purify it such that the natural double chain structure is maintained.
Made to order
Aghera and Udgaonkar set out to get a laboratory strain of the bacteria Escherichia coli to make monellin. Genes encode protein; when the structure of the protein is known, a gene encoding it can be engineered and carried into the bacteria, which are then tricked into making the protein. The bacterial cells could thus synthesize both chains of monellin, and then, hopefully, assemble them just like the serendipity berry does.
The NCBS team did all this, and the bacteria were then burst open to release the protein, using ultrasound. Then, monellin had to be separated from the other debris in the cell. First, proteins were separated, by using their hate for salt; adding salt made all the protein huddle together in a mass. Monellin has a weak charge, and was separated from other proteins by passing the 'huddle' through a column where only particles with a particular charge can stick.
Proof of product
The scientists now had to prove two things: that the protein they obtained was indeed monellin, and second, that it was made of two chains. They compared the size, mass, light absorption and structure of the protein product with naturally occurring monellin extracted from the serendipity berry, and all were a match. To check whether the product had two chains like monellin, they used chromatography, an elegant technique to separate mixtures into components. The two chains, because of their different lengths, flowed out of the column at different times.
This procedure yielded 40 mg of monellin per litre of bacterial culture, and the monellin product was 98% pure. The structure of the protein product was very similar to natural protein, except for a small additional amino acid (methionine). "The purpose of purifying the double chain form is to support fundamental research undertaken by many groups. This includes, protein folding and binding studies, protein aggregation studies and interaction of monellin with taste receptors", says Aghera.
The procedure developed in this study provides a simple technique to generate large quantities of protein product, which can be used in protein folding studies. Also, studies on monellin in specific - the interaction of natural ds monellin with taste receptors - bring the 'serendipity sweetener' one step closer. Once temperature and acid tolerance is improved, the serendipity sweetener will become reality. Monellin is one of the very few non-sugar sweeteners, containing just 4 calories per gram. Since it is 100,000 times as sweet as sugar for humans, only very little needs to be used; ultimately, a sweet dish will have hardly any calories from its sweetness.