Every year during the months of May, June and July, research institutes across India begin their selections for the best and brightest student minds to join their ranks. For students, amidst the frenzy of writing entrance tests and figuring out research interests, there is the slightly daunting prospect of having to face interview panels. To graduates fresh from a Bachelor's or Master's degree course, interviews can often seem to be formidable experiences. When the National Centre for Biological Sciences (NCBS) and the Institute for Stem Cell Research and Regenerative Medicine (inStem) hold their PhD and integrated PhD interviews in May every year, special efforts are made to help put all attending interview candidates at ease.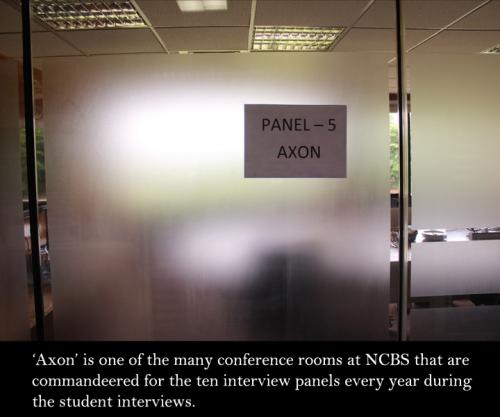 A shaded canvas pavilion erected on the campus grounds houses a forest of chairs with water and juice dispensers for the interviewees. Anxious parents are given a comfortable waiting room in one of the lecture halls, while their charges are escorted to the pavilion by student volunteers. All the volunteers are students who gave the interviews last year and still have their experiences fresh on their minds. Casually interacting with a group of nervous candidates, one volunteer offers advice, "It really doesn't matter whether you get selected for the program or not. The experience is all there is - immerse yourself in it, relax and enjoy the interviews."
"Every year, I address the candidates the moment they arrive on campus - bright and early, at 8:00 am. I have only one important message for them - "Relax!" The interview is a chance for us to get to know the students, and the more relaxed they are, the easier this is for both of us. It's also a chance for them to get to know us. Each candidate is on our campus for three full days, of which the formal interview lasts an hour at most. So this is a great opportunity for them to explore the labs, talk to current students, see what science is all about," says Mukund Thattai,  Head of Academic Activities for NCBS and inStem.
Workings of the system
The three days over which the interviews last are three intense days for the campus community. The entire event is stage managed by administrator Vishalakshi and a group of ten to twenty student volunteers. "Every year, over 300 students attend the first round of interviews on campus. This year, we arrived at these numbers from an initial round of 10,000 applications," says Vishalakshi from the Academic Office, who has been the main co-ordinator for the application and interview processes since 2008. "The numbers have soared since the process went online, a far cry from the 2000 or so applications I processed by hand when I first joined the office," she reminisces.
The campus is a hive of activity as candidate students are guided by volunteers to and from their interview venues. All interviewees are encouraged to explore the laboratories and talk to researchers about their work. "The volunteer system was really nice. The volunteers kept track of the interview lists and guided us to our respective panels. Changes in schedules were immediately conveyed by phone, and it helped to talk to people who had experienced the interviews before," says a candidate after his interview.
Experiences of the present and the past
Students from all over India come to attend the interviews on this campus and walk away with what most of them term as 'an interesting experience' imprinted on their minds. "What I really liked about my interview here was how the panel set me at ease, then began to ask very interesting questions. Most of what I was asked involved problem-solving scenarios," says a student who emerged grinning from her interview. "I still reminisce about my own interview," adds a volunteer while ushering the next candidate into the interview room. "The whole process was quite incredibly, less of a test and more of a learning experience," she adds.
"The interviews are one of the most important academic exercises we do, and it is great to see the bright sparks who (we hope) will eventually become our students. The students challenge us as much as we do them, and we have to be on our toes throughout to keep up, and to make sure that we're communicating. Sometimes, despite our best intentions and the sage guidance of the Head of Academics, we just get engrossed in an interesting line of discussion with the student and lose track of the grim business at hand. Except at times like that, it doesn't seem like such a grim business at all," says Upinder Bhalla, Dean NCBS.
The interviews are hard work, but very energizing, as this is our opportunity to attract the best young talent to the graduate programme. It's also a reminder that we have the privilege of working with students during a distinct period in their lives and this engagement should help them realize the full measure of their talents
says Apurva Sarin, former Head Academic Activities, who is now the current Dean of inStem.