Reaching Out: NCBS's First Science Journalism Course
Science journalist Anil Ananthaswamy chats about the recently-announced popular science writing workshop that he is coordinating at NCBS
Everyone's excited about the upcoming workshop on popular science writing that you're going to be conducting at NCBS, the very first of its kind here. Do tell us more about it.
Anil: We're organizing a short, ten days-long course on popular science writing here at NCBS, starting on the 24th of August. We've just announced the course and are taking in applications now. This time it's open to only students and staff in NCBS, and to a few outsiders who have been active contributors to NCBS News. In future workshops we will consider applications from outside NCBS as well.
What are the main aspects of science journalism that will be dealt with in the workshop?
Anil: There are so many things one needs to keep in mind while writing popular science articles and ten days is too little time to touch on them all. For this workshop, however, we're going to cover the two most important forms of science writing: news and features. Each type of story requires a different set of skills. A feature, for example, makes very different demands on the writer than news. We will also be talking about how to conduct good interviews, elements of good writing, structuring stories, to name a few. Students will have to write features and news stories, and we will edit and provide feedback.
What about graphics - how important are they for a popular science article?
Anil: Oh, graphics play a very prominent role in the display and visual appeal of a science article. Unfortunately though, a module in graphics is not within the scope of our workshop right now. Most magazines, journals or newspapers that publish science articles have dedicated art teams to cater to graphical needs.
We will see you reveal a few tricks of the trade. Will anyone else be contributing to the course too?
Anil: Yes, Geoff Hyde of NCBS will talk about how to analyze and break down scientific papers effectively. While I will be dealing with how to write features, a colleague of mine at the New Scientist, Peter Aldhous, will teach the other really important component of science journalism: news writing. Peter, a veteran journalist and head of the San Francisco bureau of the New Scientist, has also done a lot of work in investigative journalism.
So what would be the kind of skills you would want participants to take back with them?
Anil: Again, ten days is a very short time to effectively launch someone into a career in science journalism. But, we would like to get the students ready to start writing basic science articles for magazines, newspapers and websites. The course will introduce participants to writing articles under pressure, keeping in mind the very short deadlines and huge time constraints they will have to deal with in the field of science writing.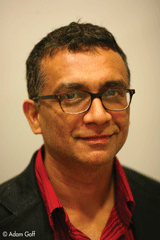 So, writing under pressure is a universal feature in science journalism?
Anil: It's a feature of all forms of journalism, but more so in science journalism. In science writing, you're trying to understand the work of a scientist (who has put in years of effort into that particular field of research) in three hours or half a day, and condense it into a single article. So yes, that's something we're going to be helping potential science writers understand.
In India there do not seem to be any serious courses that train scientists in writing popular science articles. This course must be the very first of its kind in India.
Anil: I confess I don't know much about science journalism courses in India. This workshop is not about teaching scientists to write about science; rather, it's about writing popular science stories - you don't need to be a scientist to write about science. But, one would definitely need some kind of background in science, a bachelor's in science, for example, or a keen interest in science and an ability to unpick scientific arguments, not necessarily a PhD. I don't have a PhD (smiles). A PhD, and being an expert in your field of study, can be a great help in writing in-depth and analytical stories, but it can also be limiting. You might look at certain topics with very fixed notions.
What are your visions for the course, say, five years down the road? Where do you see it fitting in the bigger scheme of science journalism in India?
Anil: This workshop's success will depend on the effort the students make and their ability to work hard. Maybe as the workshop grows, if we can train a few students each year to write about science effectively and confidently, then we would have done a good job. Science journalism has been neglected in India, and has a long way to go before it matures. It forms a very important part of the culture of science and technology, and can be instrumental in fostering a scientific temperament in the wider society. Our hope for the workshop is that it will be an impetus to bring about that change in science journalism in India, an avenue where we can train future science journalists.
It definitely sounds like an exciting and challenging workshop. But one of the questions people would be most interested in - what are you looking for in an eligible candidate, and how many participants are you planning to take?
Anil: We will be accepting only ten applications this time, from within NCBS, or from those connected to NCBS news. An interest in making a career of science journalism and doing it for a living, coupled with a passion for science and for writing are what we're looking for in prospective participants.
(End of interview)
The offical course announcement
NCBS announces its first annual popular science journalism workshop, which will be held on campus from August 24 to September 4, 2011.
The workshop has two objectives: first, to impart to students the basic skills necessary for good science writing; second, to begin a dialogue within Bangalore's scientific community about the necessity for vibrant science journalism.
Students will learn the elements of interviewing techniques, news and feature writing, which can lay the basis for a career in communicating science to the lay person. Popular science writing isn't merely about summarising an academic paper. Rather, it strives to entertain and educate, provide multiple points-of-view, and at its best, play the role of the Fourth Estate, an independent and necessary component for a thriving culture of scientific enquiry.
The workshop will demand active and committed participation from students. They will have to interview scientists, write news and feature stories, which will be edited by the instructors.
If you are interested please email Anil Ananthaswamy or Geoff Hyde at ncbs.workshop.2011@gmail.com by July 15. Each applicant should send their CV and write a short essay, of no more than 500 words, describing his or her reasons for wanting to join the workshop. Prospective students will be interviewed on 19th or 20th July, 2011. If selected, students will be required to enter a deposit of Rs 2000 to confirm their place; this will be refunded at the end of the course, provided the participant has shown appropriate commitment.
INSTRUCTORS
Peter Aldhous: Bureau chief, New Scientist magazine, San Francisco. Peter is a PhD in animal behaviour and a veteran science journalist. He was news editor at New Scientist, chief news and features editor at Nature, and European correspondent for Science. He teaches investigative science journalism at the University of California, Santa Cruz.
Geoff Hyde: Coordinator, Science Communications, NCBS. Geoff is a PhD in cell biology and has written 21 papers and several book chapters on the subject. He was on the faculty of the University of New South Wales, where he coordinated the biology department's "Professional Skills" course. He runs several courses each year at NCBS and  elsewhere in India on academic scientific communication. He has developed a novel, simple framework for thinking about scientific enquiry, analysing papers and talks, a technique that science journalists can use while interviewing scientists and reading research papers.
Anil Ananthaswamy: consultant, New Scientist magazine. Anil has a BTech (IIT Madras), MSEE and trained as a journalist at UC Santa Cruz. He has been with New Scientist magazine in various capacities since 2000, most recently as deputy news editor and physics news editor. He is the author of The Edge of Physics, a popular science book on modern cosmology and astroparticle physics, which was voted Book of the Year 2010 by Physics World, UK.